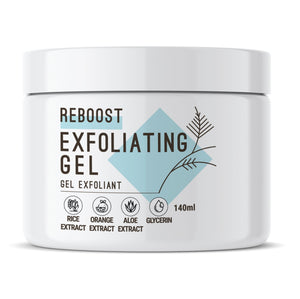 Exfoliating Gel
Regular price $19.00 $19.00 Sale
What it is:
A weekly gel exfoliator with rice, orange and aloe extracts that thoroughly but gently lifts impurities while leaving skin appearing soft and hydrated. Test small area before continuing. Use 1-2 times a week. Recommended use, once per week if you don't need to. Size 140ml.

Recommended for:
- Pores
- Dullness and uneven texture
- Oiliness

Which skin type is it good for?
✔ Normal
✔ Oily
✔ Combination
✔ X Sensitive (some have reviewed it worked well if massaged onto skin gently)

Always test a small area before using. Use at your own discretion.

Suggested Usage:
1. Cleanse face. Pat dry gently.
2. Gently massage a small amount onto the face in circular motion for 1-2minutes, until dead skin &/or dirt fall for gentle exfoliation. Avoid eyes & lips.
3. Rinse off, pat dry and follow with your skin care routine. Skin may be sensitive to certain skincare products, so test in a small area.


Highlighted Ingredients:
- Rice Extract: exfoliate & smooth skin's surface
- Citrus Extract: cleanse dirt & oil, moisturize
- Aloe Extract: improve dry skin
- Glycerin: hydrate
Ingredients:

- Water, Sitronium Chloride, Carbomer, Polysorbite-21, Propanediol, Dimethyl Imidazolidinyl Urea, Iodopropargyl Butyl Carbamate, Polyethylene, Essence, CI 19140, CI 42090, Citrus Junos extract, Aloe Vera Extract.
Expiry: 3 years unopened, 1 year after opened. View product or contact us for your expiry date.

For tutorial & skin care routine tips follow us on Instagram @reboostskincare !